CLICK ON THE "WATCH" TAB TO BE NOTIFIED OF CHANGES TO THIS PAGE (You'll need to be logged onto this site to see the Watch tab. Set your Prefences to "E-mail me when a page I'm watching is changed")
THANK YOU FOR ATTENDING THE STARTUP EVENT

Click here to post your feedback ... Click to post your notes ... Click here to see pictures from the meeting ... Click here to go to our Idealist Main Page




Click here to post ideas/suggestions for our event, or email the organizer
Never used wikis before? We have some videos to help you get started.

Registration Information
Edit
67 People Have Registered to Attend the Startup Meeting, Sunday, February 11 2007, 2-5PM
Want to help organize the startup meeting? Please post your ideas & suggestions on the Organizers Page. Thank you!
Name
Location
Comment
Hien T
San Jose
Operations Manager for Charities Housing, nonprofit, develops and manages affordable housing for low income families/individuals in Santa Clara County.
Regina F
San Jose
I am interested in a meeting in San Jose/Blossom Hill area. I am a social worker in Silicon Valley.
Maria
San Jose
I'm a social worker that wants to help make an impact on a larger scale, but am not quite sure how. Joining this group might be one way to start.
Carol D
San Francisco
Deeply committed to protecting the earth and the rights and liberties of all of its human and nonhuman inhabitants.
Sara
Santa Clara
Vanae T (MySpace)
San Jose
Executive Director of Rock Your Awareness. As an organization led by young people, we are putting the juice back into progressive outreach and empowering our generation for social change through innovative outlets. RYA engages young people to be passionate about the community and advocate social causes such as HIV/AIDS awareness, sexual health, Darfur awareness, low-income seniors, environmental and volunteerism! Do YOU rock your awareness?
Yvonne K
Santa Clara
I am a program assistant and youth corps leader of San Jose Conservation Corps, a nonprofit organization that has an after-school program for at-risk youth and specializes in environmental conservation.
Kaori
San Jose
Matthew
Sunnyvale
Social entrepreneur and AmeriCorps member
Leo R (blog)
San Jose
editor of siliconvalley.wikia.com, an online community for people who serve the valley; organizer of this event
Falguni V
Sunnyvale
I am a nonprofit professional from India. I have moved to the Bay Area recently and am passionate about being involved in social change.
Nelson L
Milpitas
I've been working in the nonprofit sector and in social change most of my life as a volunteer and a paid employee. I'm currently the Projects Director of CompassPoint's Silicon Valley office and have been with CompassPoint for over 12 years.
Brian W
San Jose

I've been with a multinational donor for the last several years in Central Asia specializing in private sector development (i.e. remote rural financing, sub-sector development). I am looking forward to meeting like minded individuals.

Ron M
San Jose
I've been working in the nonprofit field for over 15 years covering educational equity and access, youth leadership development, collaboration development between various stakeholders (school districts, CBOs, higher education systems, government agencies, businesses). I am also someone who has worked in the performing arts community for over 20 years as a performer and arts advocate. Currently, I am the volunteer administrator for the Filipino American National Historical Society (FANHS), Santa Clara Valley Chapter.
Tram N
Santa Clara
looking forward to this!
Erica W
Santa Clara
Jim T
Los Gatos
I am working with a group of people trying to raise funds to build a skate park in Los Gatos for the youth in the immediate and surrounding communities. The current movement is stalled and I am trying to both work within the system that seems so broken and start a separate organization that can work to first build community and consensus that will enable a sensible plan to move forward.
Gina P
San Jose
Years of working in an East Bay Health Non-profit organization and the Upward Bound, Federally funded program have motivated me to become an educator with a conscience. I am currently a teaching associate for an after school program named Citizen Schools at Campbell Middle School, and I immediately see how my bilingual skills and leadership coaching is needed. I am inspired to listen to and mentor young adolescents with a vision to make impactful changes in their lifetime.
Milton C
San Jose
Director of Eastside Neighborhood Center B.A. Sociology, M.A. Public Administration Experience on Online Volunteering Bi-lingual Spanish/English 9 years Non-profit Orgs work experience
Paola
San Francisco
Haywood H
Mountain View
Grew up in Hong Kong, but have been in the Bay Area for last 7 years... so am itching to make a change, especially in this great country! I'm currently involved in www.watchingamerica.com, which is a media website that translates foreign media news articles about America.
Michelle
Los Altos
I want to get involved because I believe it is what I was meant to do with myself. I am passionate about making a change in the world. I've seen what it's like to be inconceivably poor. I need to be part of changing that in any way I can.
Leslie G (blog)
Oakland
Teacher to Manager Fellow at BUILD in Oakland
Jennifer S
Campbell
I currently work in the mental health field and am interested in persuing a career in social work. I'm very interested in human rights, particularly healthcare. I love to travel.
Lori G
San Francisco
Patricia B
San Jose
I am a middle school teacher. I am eager to see how I can affect change in my community.
Dana Tran
Mountain View
Mary
Fremont
Third year law student; do volunteer work in small claims court; certified court mediator - California.
Susan
San Jose
I am a student of education at all levels, having studied education policy and tutored and taught mathematics. As a fairly recent transplant to San Jose from Oakland (last year), I am looking to get involved and meet people in the local community.
Jessica S
San Francisco
My name is Jessica and I work at a non-profit called Springboard Forward. I used to work at Ashoka and left to move out here and work with an Ashoka Fellow! While at Ashoka, I worked with Ami Dar and was so impressed with Idealist's work. I hope to be part of this next phase of their incredible work!
Lynn
Campbell
I've worked six years in Africa doing humanitarian work, plus another six in the USA.
Camila O
Alameda
Skip S
Santa Cruz
Ginamarie H
San Jose
I am fairly new to the Silicon Valley, and would like to use some of my spare time & skills to help my community.
Michael K
Santa Clara
I'm a 22 year old recent graduate of UC Santa Cruz with a B.A in Politics, and am interested in non-profits and the Green/Environmental movement
Aaron W
Mountain View
Im an adjunct instructor of history, and am looking to gain full-time employment in the nonprofit sector. Hoping to meet folks who are also interested in nonprofit work.
Lakshmi
San Jose
I have a masters in social work and have newly moved in to san jose and iam looking out to network with other non-profit professionals
Bhumi
Mountain View
Kim A
Salinas
I am a founder and President of a non-profit company who is awaiting 501c3k status. We are very interested in working with the San Jose community. We currently work with the homeless in Columbia, SC and have been researching the HIV/AIDs shelters for orphans in Africa. We have done most of our work overseas in Africa. I am interested in starting a program in the San Jose area.
Garry C
San Jose
40+ years in the Valley Active Committee member, AFP SVC Former member, DER Political Science Degree, SJSU Past San Jose Jaycees President Past Toastmasters Intl Area Governor KQED Corporate Membership Officer 2 years Senior Outreach Program Coordinator 7 yrs my own PR & Fund Raising 10 years Now looking to return professionally to PR, Fund Raising, community or government work
Josita H
San Jose
Matt
Santa Cruz
Virginia G
Scotts Valley
Involved with social marketing, model and program design
Greg Z (blog)
San Jose
I am the Program Manager for the Santa Clara County HIV Planning Council Support Program at the Community Health Partnership and a former freelance communications & web design consultant. At the Planning Council, we are excited about leveraging existing and upcoming technology to better connect our local and regional HIV infected and affected communities.
Niko K
Santa Cruz
Niko Kyriakou is a freelance journalist. He has written from the United Nations bureau of Inter Press Service and in United Press International's headquarters in Washington D.C. I am most interested in improving living standards for the poorest, promoting nonviolent alternatives, combating global warming, improving the lives of the young, and motivating the apathetic.
Kaizar C
San Francisco
I am the associate editor at NewsTrust - a non-profit website working on distilling the best quality journalism of the Internet.
David W
Sunnyvale
I am a Graphic Designer & Entrepreneur with a history of advertising and promotion. I am fairly new to Silicon Valley and focusing on ways to benefit deserving organizations, especially with community awareness and support.
Curt
Los Gatos
I'm a sys admin for appropedia.org, another wiki :-) focusing on sustainable international development. I'm a member of ewb-sfp (Eng w/o Borders). I want to work toward world peace by building intercultural understanding thru grassroots projects between rich countries and poor countries that improve conditions sustainably.
Ph
Palo Alto
Entrepreneur who is passionate about photography, travel and worthy causes. Just completed Solo Exhibition in San Francisco in Oct 2006 and Los Altos in Nov-Dec 2006. Current Exhibitions: The Look of love - International Juried Show - Feb 1-10, 2007 - San Jose; Solo Exhibition in Los Altos - Feb 1 - Mar 31, 2007; Virtual Tour of my recent Solo Photo Exhibition. I support nonprofits and worthy causes by, among other things, making my photographs available for exhibition, with proceeds donated to these organizations. Please contact me if you're interested.
Arianna T
San Jose
Full time student, freelance journalist and volunteer HIV/AIDS prevention advocate and outreach worker
Lindsey
San Jose
I am a recent college grad from Cal Poly San Luis Obispo. My major was communication studies with an emphasis in psychology. I would love to work in the non-profit sector. My heart's desire is to be involved in making the world a better place.
Rachel
Los Gatos
A recent graduate of UC Santa Cruz with a degree in Anthropology, I spent 6 months in India helping to build a non-profit organization. I learned so much there and am energized and motivated to get involved in efforts towards social justice and transparent communication. I so look forward to meeting the community.
Craig
New York
I'm a poverty/civil rights lawyer in NYC who will be moving to the area later this year. I'll be visiting next week and will try to make the meeting. Peace, Craig
Ivo
San Mateo
Software Engineer, have been involved in helping rural communities in South America develop tech centers. I am interested in volunteering opportunities and meeting people with similar interests.
Genevieve W
Albany
I recently moved from Boston, where I was quite involved with a local non-profit/social enterprise. I'm interested in getting involved in the Bay Area.
Gina
San Francisco
I work for NetSquared and am a big fan of Idealist and of Leo (and wikis). Great combo! See ya soon.
Katherine R
Menlo Park
Marcelo J
Santa Cruz
I recently moved to santa cruz from south florida to figure out what I want to do long-term with my time and hence, my life. I graduated from the University of Florida a couple of years back with a degree in political science and have done several jobs since then, most of have turned out to be unfulfilling. Perhaps this forum may help.
Rebecca C
Mountain View
I just moved here from New York, though I am originally from Tennessee. I work for Amnesty International's Human Rights Education program, and am interested in exchanging ideas with people who are actively involved in the community.
Ben K
Los Gatos
I am an 8th grade teacher at Ocala Middle School in San Jose and I am working as a part of the movement to close the achievement gap. My wife will be attending as well.
Aaron
Fremont
medical / public health background. interested in most good causes however. recently moved back to the bay area, want to get involved locally. also, i'm personally working on an NGO to fund some water projects in Ghana and want to see if anyone wants get involved with that.
Gokul
Los Gatos
Just curious..
Anna
Pleasanton
I just graduated from college and am looking for a job. I want to come to this meeting for inspiration.
Elaine M
Sunnyvale
I have a strong interest in being involved with important things that really truthfully make a difference.
Arielle
Berkeley
I grew up in the Silicon Valley and am currently a sociology student at UC Berkeley.
Meeting Resources
Edit
Prep work
Edit
Meeting references
Edit
Proposed Agenda
Edit
Why are we meeting?
Edit
First, to connect with others who want to help build this network, and to talk about how we can create more connections between people, ideas, and resources in our neighborhood, village, school, or workplace.
More specifically: What would make it easier for more people to get involved in your community? What missed opportunities for action and collaboration do you see around you? How can you address some of them now? What are the challenges? How do we reach more people and organizations?
By discussing these questions with a similar agenda in as many places as possible, and collecting stories, photos, and ideas from each meeting and sharing them on Idealist, we can all benefit from one another's experience and point of view.
Lastly, but maybe most importantly in this initial phase, these meetings will allow us to see and to feel that we are not alone—that all over the world there are people who share similar values, dreams, and challenges, and who want to work together to build a better world for everyone.
---
"If all of us had more opportunities to connect and work together, online and face-to-face, in neighborhoods, villages, schools, and workplaces, the world would be a different place."
---
Introductions: Who is here?
Who is in the room and what brought them here? Depending on how many people are there, you can decide how much each person should say.
It might be good to start from the big picture: We all want to help build a world where all people can live free and dignified lives, where any person who wants to help another can do so, and where no opportunities for action and collaboration are missed or wasted. And we want to get closer to these goals by helping connect people, ideas, and resources in any way we can.
What's the situation now? Where are we starting from?
In terms of opportunities for action, connection, and collaboration, where are we now? How easy is it for people in the community (or school or workplace) to connect around shared interests or concerns? What resources are available to help people who want to get involved but don't know where to start? What do people in the room see as the most urgent problems in the community?
What are some steps we can take right now?
Based on this initial assessment, what are some immediate steps we can take to make it easier for everyone in the community to connect around common issues and ideas? And at the same time, are there people in the room who share a specific interest and want to start working on a project together?
Who else should be involved? How do we reach them?
What are the best ways to reach more people who could be interested in this initiative?
Some practical goals for the next few weeks
What steps can we take between now and the next meeting? What can different people do?
What is the best way to continue this conversation?
When and where should we meet again?
What did people think about the meeting?
If you have some time left, consider letting people say how they felt about the meeting.
Thank you all for coming!
What do we mean by a better world?
Edit
We want to live in a world where all people can live free and dignified lives, where any person who wants to help another can do so, and where no opportunities for action and collaboration are missed or wasted.
All over the world there are many people who share similar values, dreams, and challenges.
With all the tools we have now, we can communicate like never before.
If all of us had more opportunities to connect and work together, online and face-to-face, in neighborhoods, villages, schools, and workplaces, the world would be a different place.
The challenge: so many missed connections
Edit
There is a good chance that right now, on different floors of an apartment building somewhere in your country, two people are looking out their windows and wishing there were a garden or a playground below instead of a dirty lot. But acting alone can be difficult, and in many neighborhoods, both rich and poor, there is no way for people to know that they are not alone—that down the street, or two floors above or below them, there may be others who would gladly work with them if they only knew where or how to find them.
This sense of unrealized potential is one engine driving this project. The other is a conviction that working together across our differences we can do something about it.
The opportunity: we have so much in common
Edit
There are now many people all over the world who, regardless of language, religion, or politics, agree on the basic rules within which the human game should be played.
Working with others, in a spirit of generosity and mutual respect, we want to help build a world where all people can live free and dignified lives.
In pursuing this goal, we do not engage in violent or illegal action, or in any action against a person or group on the basis of race, origin, nationality, religion, language, gender, sexual orientation, or physical or mental ability.
Most social and environmental problems have many possible solutions, and what works in one place might not work in another.
Patience, empathy, and laughter often help.
How? Like stores and libraries
Edit
Acting, thinking, and sharing are good words, but how can we all work together when each of us might approach things differently? How do we make the most of the skills, resources, and ideas that all of us have to offer, while accepting that we may not always agree on everything? To find this balance, and make as many connections as possible, we can borrow four principles from the worlds of stores and public libraries. These are:
A broad goal: Libraries help people read more books; stores connect us with products we need (or not).
As much choice as possible: Hundreds of novels; different kinds of products.
A few rules: You return your books so that others can read them; you pay before you leave.
Impartial service: Most librarians and shopkeepers don't force you to read the books they love or to buy the products they like, but they do support everyone's right to read and to choose
Some solutions
Edit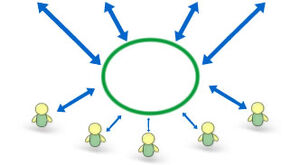 How can we make it easier for them to connect, first with each other, and then with any organizations that want to work with them? One way to do this would be to have a Community Point in every neighborhood and village. They could have a permanent physical location (at a local organization, school, community center, or house of worship, or in a coffee shop, store, or library), and use email and the web wherever possible as additional ways to serve their community. Or they could exist mainly online, and use a variety of places in the neighborhood for regular face-to-face meetings.
In any case, once a community point is set up it could gradually provide all of the following services:
A meeting place, open all day or two hours a week, where you can come to exchange ideas, suggest and plan a project, give or take a class, find the resources you need to help yourself and others, or simply find someone to water your plants while you are on vacation.
A new way for organizations of every kind to reach your community and work with you according to local needs and priorities.
The opportunity to share ideas, information, and resources with people facing similar challenges in other communities, whether in the same city or on another continent.
The intangible but crucial feeling that we are not alone—that in our neighborhood, and all over the world, there are others who understand and support what we are doing.
Applying these principles more widely
School clubs
Campus networks
Workplace initiatives
Joint promotional campaigns
Community summits
Getting started
Edit
We have in our hands everything we need to create a global network of people who want to build a better world, but to get there, we need to reach out, connect, and plug in. More specifically, here are some of the steps we can take to make this happen:
Invite people and organizations all over the world to start building this network by signing up, reaching out to others, and shaping and following this story as it evolves.
Meet face-to-face, wherever we are, to think and talk about how we can create more connections between people, ideas, and resources in our neighborhood, village, school, or workplace.
Create local outreach teams of people who want to help make these connections wherever they live, work, or study.
Go beyond the web by using different methods (flyers, posters, radio programs) to reach people who may not have access to the Internet.
Try a variety of ideas—from community points to school clubs to community summits—and learn as we go.
Do all this in as many languages as we can.
What you can do right now
Edit
Attend or host a start-up meeting in your neighborhood, school, or workplace during the week of February 5-11
Sign up for email alerts on new opportunities that match your interests and location, or to hear about new start-up meetings as soon as they are posted here.
Invite other people to take part in this initiative. Think of everyone you know who might be interested, email friends and colleagues, and post a message on any online forum or mailing list where this would be appropriate.
And most important, keep in touch.
Thanks to Wikia
Edit
Many thanks to the good people of Wikia for helping us set up this wiki.